GRID approach will lead to an economic recovery that prioritizes green opportunities which will expand prospects for employment.
The Kathmandu Declaration was signed by the Secretary of Finance on 23rd September 2021, paving the way for a Green, Resilient, and Inclusive Development (GRID) in Nepal through Strategic Action Plan (SAP). The GRID-SAP aims to harness the natural capital to create jobs and ensure food and water security by focusing on agriculture, sustainable forest management, eco-tourism, and water resource management. An increased focus will be placed on renewable energy, urban development, and transportation to build infrastructures that are eco-friendly and disaster resilient. Disaster risk management and social protection system will be prioritized in the wake of the COVID-19 pandemic and increased instances of landslides and floods. The GRID-SAP intends to reduce inequalities of opportunities for the poor, women, youth, and informal workers so that the economic recovery leaves nobody behind.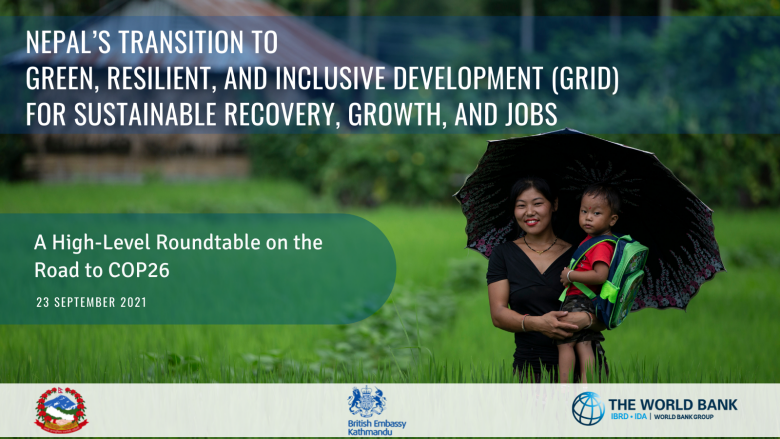 Nepal's GRID Initiative will build on the Nationally Determined Contribution (NDC), its commitment under the Paris Agreement, and Nepal's 15th Development Plan. Nepal is on its course to establish a long-term strategic GRID platform, and start a GRID committee in a joint partnership with the Ministry of Finance leading it along with private sectors and development partners to align investments and support the creation of green jobs as per the GRID objectives. To achieve this, the GRID platform will be involved in the identification of new investments and political actions to deliver on Nepal's GRID vision. International Development Partners have currently pledged USD 3.2 billion, with up to USD 4.2 billion expected in new commitments, in finances for GRID-related sectors. A GRID support team has also been established by the development partners to advise the Government of Nepal.
With the signature of the Kathmandu Declaration and COP26 close approaching, GRID is an up-and-coming buzzword. The GRID approach aims to guarantee that development is guided by sustainable ideologies to address and reduce the risk of climate change and biodiversity loss. Since future events are unpredictable and inevitable, there is a need to increase our preparedness by building resilient infrastructure.
In a country like Nepal, where the cultural and economic diversity is great, inclusivity is a crucial consideration when carrying out development interventions to facilitate uninterrupted development and unlock the full potential of the entire population.
The COVID-19 pandemic and the subsequent lockdowns have created multiple challenges for an already struggling Nepalese population. During a time, when even the most developed countries of the world were struggling to navigate the pandemic, Nepal adopted a low-effort approach of enforcing lockdown without planning a proper relief mechanism for its most affected population. The informal sector, which accounts for more than 70% of the economically active population, has been hit hardest by the restriction on movement. Moreover, Nepal ranks among the top 10 countries most affected by climate change over the last two decades, with natural disasters like drought and floods expected to intensify during the 21st century.  In this regard, integrating the GRID objectives into Nepal's policies is important not only just for economic recovery from the pandemic but also to ensure the long-term survival of the population.
If done correctly, the GRID approach will lead to an economic recovery that prioritizes green opportunities which will expand prospects for employment. Nepal has a technically viable capability to generate 42,000 MW of electricity from hydro, 2,100 MW from solar and 3,000 MW from wind. Achieving a balance between hydropower, solar power, and wind power in our electricity grid by using our full potential will allow Nepal to become self-sufficient in electricity and create export possibilities. Utilizing only 20% of the country's economically viable hydropower potential would reduce the negative impact of erratic oil price on the economy and is estimated to increase real Gross Domestic Product (GDP) by 87% by 2030. The housing sector employs 18% of the urban labor force and increases rapidly with the urban population. Prioritizing green buildings that promote energy and water efficiency, and use ecofriendly materials will create green jobs as well as advance the construction of climate-resilient infrastructures. Non-timber forest products account for more than 90% of the household income in rural areas of Nepal, which is why forest-based green enterprises and large forestry projects need to be prioritized. Additionally, ecotourism has made significant contributions to rural development and should be further encouraged.
Adopting the GRID model in Nepal will support the post-pandemic economic recovery and create new sustainable jobs in clean energy, agriculture, tourism, etc. in the short to medium term. Over the long term, GRID will ensure a sustainable, resilient, and more inclusive development while helping Nepal obtain zero carbon status before 2050. The Government of Nepal, International Development Partners, and the country's private sector must collaborate to ensure that GRID-SAP will achieve its objectives.
Sneha Shrestha
Sneha Shrestha is an ACCA affiliate with interests in business valuation, financial planning, mergers and acquisition, and strategy consulting. She has previously worked in audit and accounting for few years before joining Beed. She is currently working as a beed fellow at beed management.